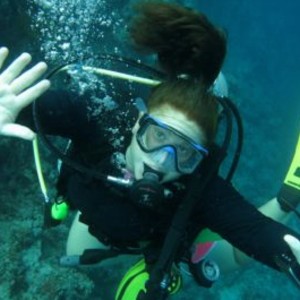 Samm Sherman
Marine Biologist - JCU
---
Research Locations: Coral Triangle Region; Great Barrier Reef, Australia
Samm completed her BSc. (Hons) in Marine and Freshwater Biology at the University of Guelph in Ontario, Canada and graduated on the Dean's honour list. Her honours research looked at the ontogeny of methylamine production in brownbanded bamboo sharks (Chiloscyllium punctatum). During her undergraduate degree, Samm volunteered on various projects including studying sea otter behaviour in Alaska, bull shark behaviour in Fiji, ecology of lemon sharks at the Bimini Biological Field Station in the Bahamas, and a white shark population study at the South Africa Marine Predator Lab in Mossel Bay, South Africa. Samm completed her master's degree at James Cook University in Townsville, Australia where she assessed commercial fisheries management in their catch of elasmobranchs. She is currently focusing on ray diversity and abundance in southeast Asia and the Pacific.
Research
Uses baited remote underwater video surveys (BRUVs) to e

xplore factors that drive the diversity, abundance, and distribution patterns of reef associated rays in Southeast Asia.
Describes ray distribution and occurrence patterns in the Great Barrier Reef Marine Park (GBRMP).
Uses mathematical (MaxEnt) modelling to predict ray distribution in unsampled areas of the GBRMP based on environmental and anthropogenic factors.
Education
M.S. Marine Biology, James Cook University, Australia

B.S. (Hons) Marine & Freshwater Biology, University of Guelph, Ontario, Canada