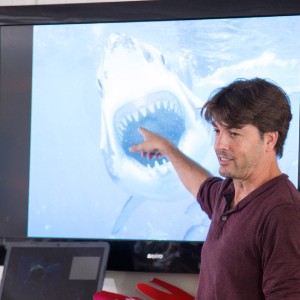 Demian Chapman
Molecular Ecologist
---
Research Locations: Western Atlantic Region, Maldives, Hong Kong
Overview
Demian Chapman is an Associate Professor in the Department of Biological Sciences at FIU. A molecular ecologist by training, he leads the Global FinPrint project and studies the Asian shark fin trade. He has published more than 70 scientific papers and appeared on BBC and the Discovery Channel. His efforts have contributed to species protection in the form of a shark sanctuary in The Bahamas, improved shark management in Belize, and the listing of multiple shark and ray species on the Convention on International Trade in Endangered Species (CITES), to name a few.
Research
Uses acoustic and satellite telemetry to better understand the movements of sharks and other large fish in relation to protected areas (e.g. marine reserves).

Combines tracking studies with baited remote underwater video (BRUV) surveys of reef shark abundance to directly assess the effectiveness of marine reserves for these species.
Conducts genetic market surveys in Asia to asses the species composition of the global shark and ray fin trade and how it is affected by new regulations (e.g. listing of sharks and rays on the Convention on International Trade of Endangered Species).
Assesses the role of philopatry (i.e. residency or return migration) in structuring shark and ray populations.
Education
2014 Pew Fellow in Marine Conservation

Postdoctoral research: Rosenstiel School of Marine and Atmospheric Science, University of Miami

Ph.D. and M.S. Oceanography and Marine Biology, Nova Southeastern University, Florida

B.S. Zoology and Ecology, Victoria University of Wellington, New Zealand